West Linn Lutheran is a community of faith where people come together to worship, learn, love and care for one another.
Visitors are always welcome at West Linn Lutheran Church. Whether you're looking for a new church home or just visiting the local area, we invite you to stop by and worship with us. You will find a warm, welcoming and caring environment!
Whether it's quality nursery care for small children, a vibrant Sunday School experience, a fun and impactful youth group for teenagers, a way to connect and have meaningful spiritual conversations, or an inspiring Sunday morning, you are invited to share in the vitality, the enthusiasm and the personal fulfillment that participation at West Linn Lutheran offers.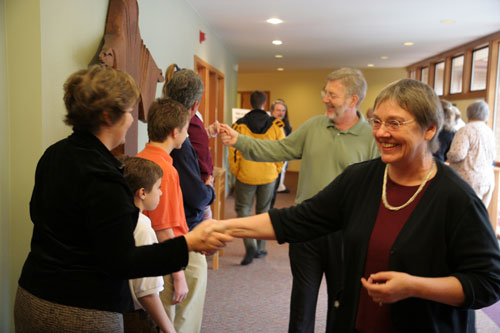 We Invite All People into a Trusting Relationship with God through Jesus Christ.
That's the mission, the purpose and the focus of ministry at West Linn Lutheran Church. We express that ministry in a number of ways and invite others from varying religious backgrounds and diverse spiritual experiences to accept the challenges and experience the joy that faith in Jesus Christ brings.
West Linn Lutheran Church is a community of faith that welcomes all regardless of race, religion, color, sex, gender identity, sexual orientation, family status, national origin, age, disability, medical history, political affiliation, financial situation, mistakes made, successes achieved or any other category that you or the world have determined you belong. Our hope is that our congregation loves all as Jesus loves the world.
No exceptions.
This welcome extends throughout the life of our congregation.
West Linn Lutheran Church is a community of faith centered on four areas of spiritual practice in congregational life
WORSHIP
Word and sacrament are central elements in our congregational worship.  Music also plays a vital role in our worship services.
LEARNING
At WLLC, we are engaged in conversation, study and reflection about the meaning, values and implications of the gospel in our lives today.
LOVING 
Because God loved us enough to give us God's Son, we believe it is essential to to express and share God's love with others in all that we do.
COMMUNITY
Our congregation is a community of faith where people come together to worship, learn, love and care for one another.
CREATE NEW RELATIONSHIPS
Building and fostering relationships with people throughout our church and neighborhood.
Linking with partners who share our work in the world.
Building bridges within and across the ways our community is divided, whether by age, money, race, sexuality, religion or other boundaries. ​
EMPOWER LEADERS AND MINISTRY
Growing in faith, as we study and seek to discern God's will, and apply it in our lives.
Increasing the number of people we touch with our ministry.
Build up those who participate as partners and leaders in our work. ​​
BE AN ADVOCATE FOR A HEALTHY COMMUNITY
​ LOCAL AND GLOBAL. ​
Working and advocating to meet basic needs. Actively seeking ways to end poverty and injustice, and striving to eliminate inequalities that remain in our society.
Strengthening all forms of families.
Land Acknowledgement
West Linn Lutheran Church acknowledges that the land now known as West Linn rests on the traditional village sites of Kalapuya Tribes, including the Bands of the Atfalati and Ahantchuyuk, who are today represented by the Confederated Tribes of Siletz and the Confederated Tribes of the Grand Ronde. In 1855 the U.S. government forcibly removed the Tribes from this land to allow white settlers full access to the land west of the Cascades.
Willamette Falls was and is a sacred place for many Tribes. It was a place of commerce where Tribes gathered, fished, and traded. The Confederated Tribes of the Grand Ronde recently built a fishing platform on the falls and continue to conduct ceremonial fisheries.